Preparing for Surgery
Proper preparation before surgery helps to ensure a safe and relaxed procedure and recovery. We provide the following information to help you be fully prepared for your procedure at Surgicenter of Kansas City.
After your surgery is scheduled, a nurse from our center will call you at least one day prior to the day of your procedure to assess your specific needs and concerns, give you instructions, and answer your questions. When you speak to our nurse, please be sure to mention any daily medications you are taking, especially medications for heart, diabetes or blood pressure problems. If you are not contacted by phone, please be sure to call us during business hours at (816) 523-0100.
The night before your surgery, please do not eat or drink anything after midnight, including water, hard candy, or gum. Take only the prescription medications approved by the Surgicenter's admissions nurse with a small sip of water.
Please plan to arrive at the Surgicenter of Kansas City 1.5 hours before your surgery time. (See the Day of Surgery Checklist for the items you will need to bring with you that day.)
Pain Management Procedures
If you are having a pain management procedure, we encourage, at most, a light meal two hours before your scheduled visit. You will need to arrive one hour before your first series of injections (your nurse will provide your arrival time after that).
If you have been scheduled for a pain management procedure and are taking blood thinners, please contact the admitting nurse at (816) 995-3140 before arriving for your procedure.
Day of Your Surgery
What to Expect on the Day of your Surgery
It is important to know what to expect when you have surgery, and we at Surgicenter of Kansas City want you to be informed so that you feel at ease and ready for your procedure and recovery. Reading the following information will help you prepare yourself for your procedure at the Surgicenter.
Guidelines for the Day of Surgery:
If you do not feel well on the day of your surgery, please call the Surgicenter.
You may take a shower or bath on the day of surgery.
You may brush your teeth and gargle on the morning of your surgery, taking care not to swallow any liquids.
Wear comfortable, loose-fitting clothing, including low-heeled shoes. (After you arrive at the Surgicenter, we will give you a gown, cap, and slippers.)
Please leave all jewelry and other valuables at home for safekeeping.
If you wear contacts or eyeglasses, please bring a storage case to place them in prior to your procedure.
If you normally use a walker, crutches, or any other equipment or device for support or assistance, please bring that with you. If needed, we will help you to your car by wheelchair when you are discharged.
If you use an inhaler, please bring it with you.
Bring your insurance ID card(s) and one form of picture identification.
Bring the funds necessary to cover your portion of fee. We accept all major credit cards, including Care Credit.
Arrival at Surgicenter of Kansas City
When you are a patient at Surgicenter of Kansas City, your comfort and safety are our primary concern; this is why we want you to know what to expect upon your arrival at the Surgicenter the day of your procedure.
You should arrive 1.5 hours before your surgery time and check in at the front desk. Then, you will be taken into the admitting area, where you will change into a gown. Your blood pressure and temperature will be taken, and an anesthesiologist will evaluate you. You will then have an opportunity to ask the anesthesiologist or surgeon any questions you may have. At the appropriate time, a nurse or anesthesiologist will escort you to the operating room.
Your Family Members and Companions
A family member or companion (over the age of 18) must accompany you and be readily available at the Surgicenter the entire time you are in surgery and recovering from anesthesia. If this family member or companion needs to leave the Surgicenter during this time, he or she must provide the front desk staff with a phone number and be capable of being reached at all times. If the patient is a minor, however, the family member or guardian may not leave the center at any time.
After Surgery
From coming out of anesthesia in the recovery room to resting at home, recovery from surgery is an extended process. The following information describes what you can expect after your surgery at Surgicenter of Kansas City.
Recovery Immediately After Surgery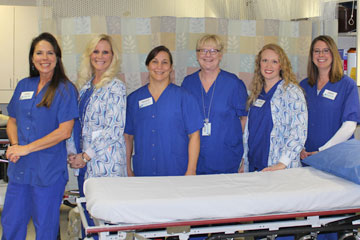 After surgery, you will be transferred to the center's comfortable recovery room. There, your anesthesiologist, with the assistance of the recovery room nurses, will closely monitor your condition. You may be able to have light nourishment at this time.
It is common for patients to feel a bit lightheaded, dizzy, sore, and slightly nauseated after their procedure. How you will feel will depend on several factors, including the complexity of your surgery, how long you were in the operating room, your pain threshold, and what type of anesthesia you were given. Each person responds differently to surgery and the effects of anesthesia, so it is important to communicate with your nurse and let him or her know if you are experiencing anything that you feel may be unusual.
When your anesthesiologist determines that you are ready to go home, a nurse will give your caregiver written instructions for you to follow at home, as well as any medications prescribed by your surgeon. Once you are dressed and ready to leave, your nurse will let you know if you can walk by yourself or if you will need to use a wheelchair.
Recovery at Home
Recovery from surgery is a process that takes time, so plan on getting plenty of rest. It is best if you can make arrangements to have an adult family member or companion help you while you are recovering.
In addition to the instructions given to you when you are discharged, it is especially important to adhere to the following guidelines for at least 24 hours after your surgery:
Call your surgeon if you have any unusual symptoms or unexpected change in your condition.
If you feel you are experiencing a medical emergency, call 911.
Avoid all alcoholic beverages.
Do not drive a car or operate heavy equipment or machinery.
We also recommend that you avoid signing any legal documents.
A nurse will call you the day after your surgery to check on how you are doing. The nurse will be able to help you with any questions or concerns you may have at that time.
Contact Us
If you have any questions or concerns regarding your recovery or another aspect of your procedure, please contact us.